Frequently noted by critics for his creative programming and bold interpretations, founding Pacific Chamber Orchestra (PCO) Music Director and Conductor Lawrence Kohl was awarded special recognition in 2016 by the Cultural Arts Commission of Contra Costa County for his contribution to the arts. Kohl's creative work led to the marketing firm AKQA receiving a Silver Lion award from the 2013 Cannes Lions International Festival of Creativity. Kohl was chosen to premier a new work for the 60th Anniversary of the United Nations held at Grace Cathedral in San Francisco.
Kohl's "Discover Music" educational assemblies teaching music fundamental in exciting ways has garnered high praise and received prestigious grants. In 2017 the Contra Costa County Arts Commission recognized Kohl for his artistic programs.
Awarded the UCLA Music Department's first University Chancellor Fellowship, Kohl did his doctoral work in Systematic Musicology while also holding the position of Conducting Teaching Associate under Samuel Krachmalnick, Leonard Bernstein's chosen conductor of his original Broadway production of Candide. Kohl later also worked with Goffredo Cordietti, Arturo Toscanini's only conducting assistant.
A consummate clarinetist, Kohl has performed chamber music internationally, toured with the San Francisco Symphony and was awarded a rare bass-clarinet fellowship at the Aspen Music Festival.
I have conducted professional orchestras, opera, musicals,
contemporary ensembles, community orchestras, youth 
orchestras, and wind ensembles. If you wish to discuss a 
possibility please fill out the form on the CONTACT tab.

REVIEWS
"Kohl gave just the right balance between public rhetoric and intimate delicacy." "The magnificence of the performance was memorizing." "The orchestra was led with so much talent and enthusiasm by the ebullient Lawrence Kohl." Kohl painted with bright bold colors."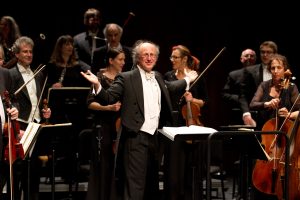 Upcoming
Please go to Pacific Chamber Orchestra for updates and news. Due to Covid19 while all current performances have been postponed, plans are currently being developed for the 20-21 concert season. PCO will be back stronger than ever. Stay tuned!